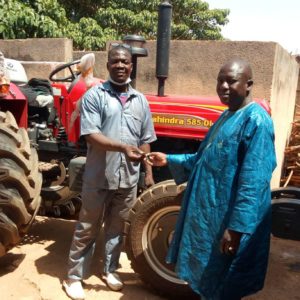 Empower Mali is very pleased to announce that a town in Sikasso is the recipient of a new tractor to help with the improvement of agriculture in their community. Due to the generosity of the Watkins family who donated $20,000 and the Gerber Construction company, Empower Mali was able to make this tractor a reality!
The tractor is part of the Perpetual Tractor program. Villages are able to pay off the $25,000 tractors over a period of 5 years and then they own them outright. The Funds are then used to provide another village with a tractor. With tractors as an asset, these villages produce more, specialize in more lucrative crops, and rent their tractor to neighboring villages for increased income allowing them to pay off the tractor on time and bless all the villages around them. Our PTF (Perpetual Tractor Fund) is helping Mali through its own industrial revolution.
Empower Mali already has four tractors in the communities of Beneko, Bougouni, San and Garalo. These communities have implemented large scale farming. They have been able to increase their farmland thereby also increasing yields.
The Empower Mali tractors food security initiative will allow farmers to modernize their business and help increase production of staples like cotton, sorghum, millet, maize, and rice. A massive increase in productivity and output will make a decisive improvement in production, employment and increase rural incomes.